30th ISME World Conference on Music Education, Thessaloniki 2012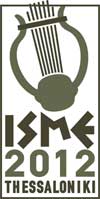 COMMENTS on the 30th ISME World Conference on Music Education in Thessaloniki
You can read the delegate's comments on the 30th ISME World Conference here
---
ISME-Gibson International Award Winners 2012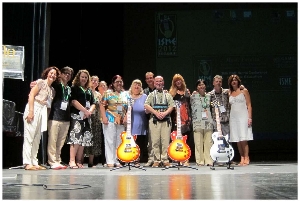 On the occasion of the 30th ISME World Conference on Music Education, Thessaloniki, Greece (July 15-20, 2012), the International Society for Music Education and Gibson Foundation presented two International Awards.
These prestigious awards were open to educators and institutions that have particularly distinguished themselves in the field of music education within Greece. The awards recognize outstanding achievement and service in the discipline, thereby providing acknowledgement for exemplary music educators and or institutions whose work enriches music education in Greece and serves as an exemplar for the ideals of music education internationally.
The first award was given to the Greek Society for Music Education (G.S.M.E., founded 1997) and the second award was given to The Music Library of Greece 'Lilian Boudouri' (founded 1997).
The Gibson Awards were presented on Thursday's 19th July Plenary session. ISME President Prof. Graham Welch, and Nina Miller, Executive Director of
Gibson Foundation presented the two awards and gave the Gibson Guitars to the G.S.M.E. President May Kokkidou, and the representative of the Music Library, Vasiliki Koutsobina.
The G.S.M.E. and the Music Library of Greece will collaborate on a new, special project to reach out through, and in, music to people who are at the margins of society, at risk of social exclusion and for whom involvement in music will make a positive and enriching difference to their lives. G.S.M.E. will lead the fieldwork development aspects of the project.
The Music Library of Greece in Athens will use its on-line expertise to provide project resource support and data dissemination within Greece and globally.
The project outcomes will be reported in 31stISME World Conference in Brazil, 2014.
---
You can see photos (given by the member of COG Theofilos Ginis) from the 30th ISME World Conference .
30th ISME World Conference on Music Education 15-20 July 2012
to download the General Sessions of the Conference please got to the link:

FINAL FINAL General Sessions.xls
to download the timetable  of the Concerts of  the Performing Groups  and the Groups of the City Festival 

ISME 2012 performing groups timetable.xls
WELCOME TO THESSALONIKI!
ISME 2012 COG will operate a welcome desk at the 'arrivals section' of Thessaloniki International Airport on Saturday July 14th and Sunday July 15th, from 09:00 to 18:00.
The welcome desk is located at the right corner of the arrivals section lobby, next to the currency exchange desk.
After the luggage reclaim and the customs area, exit the arrivals gate and turn right. The welcome desk will be clearly sign-posted and it will be easy for you to identify it.
The welcome desk will provide information on the following:
Airport Information
Public bus and taxi information
City information
The welcome desk staff look forward to meeting you in Thessaloniki  and wish you a safe and enjoyable flight!
You can find at the following sites informations about Thessaloniki 
here: http://www.thessaloniki360.com/en/ 
and here: http://www.use-it-thessaloniki.gr/
Conference Theme: «Music Paedeia: From Ancient Greek Philosophers 
Toward Global Music Communities»

Welcome to Thessaloniki 2012!!!
Dear friends and colleagues from all over the world!
It is a great pleasure, a privilege, an honour, as well as a huge challenge for me to greet you from the position of the Chair of the next ISME World Conference! 
On behalf of the Conference Organizing Group (COG) and the host organizer the Greek Society for Music Education (G.S.M.E.), I would like to extend my warmest invitation to all of you to the 30th ISME World Conference that take place in Thessaloniki, Greece, July 15-20, 2012. 
As our Chinese colleagues very well used the metaphor earlier, we will now transfer -through the paths of the silk road- the flame of the Music Education Olympics back to Greece! 
Greece is an ancient civilization with thousands of years of music history. We have a long tradition of sharing and exchanging our music and culture with different nations. The city of Thessaloniki, in which the 30th ISME World Conference will be held, is the capital city of northern Greece. Archeological findings show that people lived in the area since the beginning of the 3rd millennium BC. So, Thessaloniki was built on the remains of an older city. It was founded in 316 BC by Kassandros, who gave to the city the name of his wife Thessaloniki, the sister of Alexander the Great and has been a crossroads of cultures and civilizations since then. 
The city's atmosphere is a fusion of Greek, Balkan and Southeastern European influences that co-exist harmoniously, creating a multicultural and cosmopolitan environment, where visitors from all over the world feel comfortable and welcome.
Our Conference Theme: «Music Paedeia: From Ancient Greek Philosophers Toward Global Music Communities», links today with Ancient Greece and will give a great opportunity to everyone to be expressed in their own, distinctive way, by also connecting the past with the present and the future. 
The host and local organizer of the 2012 ISME World Conference, the Greek Society for Music Education, was founded in March 1997. It is a non-profit, scientific organization, with the main purpose of promoting music education and of developing it further as a field of scientific enquiry. G.S.M.E. collaborates with other societies that work on the same purpose in Europe and in the other continents and has been closely working with ISME from the beginnings as an ISME National Affiliated Organization since 1998. Our Society organizes workshops, seminars, lectures and conferences and publishes books, journals, and newsletters. 
The Thessaloniki Concert Hall where the conference will take place, with its two buildings, is the ideal venue for an ISME Conference. It is one of the most advanced concert venues in Europe and a Convention and Congress centre, with facilities that can host large international conventions, cultural and scientific events as well as exhibitions. GSME have had a fantastic collaboration with the Thessaloniki Concert Hall while organizing there the 5th G.S.M.E. Conference in 2007. 
Most of the members of the 2012 Conference Organizing Group have participated in organizing many different G.S.M.E. events: seminars, concerts, workshops and conferences and constitute an experienced, hard-working team of organizers. I have been working with this team for years and I can promise that we will all give our best selves in organizing this huge event too!
Organizing the 30th ISME World Conference is one more of the ways that GSME is serving the vision of supporting quality music education for all. It is an honourable and glorious mission and we wish also to give to everyone the opportunity and any possible help to explore the Greek culture and music. 
Furthermore, there are two more reasons to celebrate in 2012 together with the 30th ISME World Conference!
2012 is the year that the city of Thessaloniki will celebrate the 100th Anniversary from its Liberation! 
2012 is also the year that G.S.M.E. will celebrate its 15th Anniversary! 
Once more, we are honoured to host the 30th ISME World Conference and ready to welcome you with renowned Greek hospitality in a journey for all, and a conference to remember!
Welcome to 2012 ISME Thessaloniki Conference
Welcome to Greece, the country that gave birth to great philosophers, to democracy and of course, to the Olympic Games!
Dr Polyvios Androutsos
Chair, ISME 2012 
Conference Organizing Group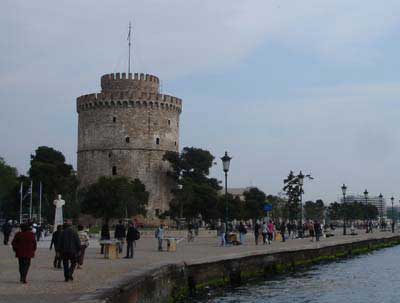 Weeks Overview of the 30th ISME World Conference, see attached file

A journey for all, a conference to remember...
Greek keynote speaker will be Nikos Kypourgos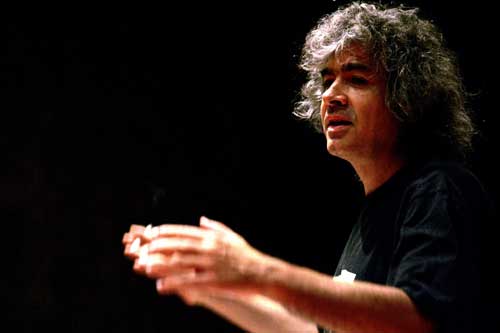 Born in Athens in 1952, Nikos Kypourgos pursued studies in music theory and contemporary music techniques under the supervision of Yannis Papaioannou while simultaneously studying Law and Political Science at the University of Athens. He continued his studies at the Conservatoire de Paris on a scholarship granted by the Onassis Foundation, where he attended the classes of Max Deutsch, Iannis Xenakis, and other renowned composers. His studies also included Ethnomusicology and Music Education.
Nikos Kypourgos has composed vocal music (Knots, a choral "game" for 16 voices, was awarded the first prize at the International Rostrum of Composers organized by UNESCO in 1979), orchestral music, chamber music, ballet music, musicals and songs.
For the past twenty years, Nikos Kypourgos has been occupied with incidental music for the theatre (having composed music for many different theatrical genres ranging from ancient Greek drama to contemporary theatre) as well as music for films (more than fifty films in Greece, France, United Kingdom, Germany, Poland, Turkey, USA, Canada). In both fields he has received numerous awards in Greece and abroad. Most of Kypourgos΄ work is available on CD. Many of his works were first performed in France, Italy, England, Spain, the United States and Belarus, (for full discography and filmography: www.nikoskypourgos.com).
For many years he has been actively involved in the field of Music Education, being one of the pioneers in the formation of a modern Greek music pedagogical system. 
His diverse teaching experience includes teaching music theory and composition at renowned Conservatories as well as classes of Music Pedagogy at the Department of Education of the University of Athens.
Keynote title
Music and Songs for Children: stereotypes and paradoxes
Abstract
For Greeks, music is linked with speech ever since the age of Homer: from the rhapsode –"the storyteller-singer", ancestor of the troubadour– we go through the chorals of ancient drama to themelopoeia and the hymns-odes of byzantine music, the medieval recited-sung akritika (borderline) and Cretan epics, the folk song, the rebetiko and the modern laiko (popular) song. Although it seems to be a contemporary fact that today we tend to sing less than before, singing still continues to be an irreplaceable and basic means of expression and communication. In respect to children's song, we study children's singing focusing on songs that adults compose for children. In the latter case, there are songs that address exclusively children, like the traditional lullabies and tachtarismata (nursery rhymes), and 'adult' songs that children embrace and love. Besides, rhapsodists and storytellers did not have only adults as an audience. Many Greek composers have tried to address the 'children's audience'. In this case the following paradox occurs: children are often unenthusiastic to musical material produced particularly for them, whereas they embrace songs that are not created for children. And they embrace them regardless of stylistic differences and music idioms. In general, children tend to surprise us; however, their judgment seems to be almost unmistakable. They deal with the music material with open-mindedness and evaluate it in terms of both its content and its form, its functionality and originality, and, most of all, in terms of its truth. Generally, children's response to the song is partly unpredictable. However, a general rule seems to apply: children show respect to the songs that do not underestimate them as an audience. In the current presentation, I will attempt, through examples of my personal experience, to approach the complex issue of children's songs and investigate the various contextual aspects of their creation (e.g., music pædeia, music-drama performances for children, musicals, radio), their perception and acceptance.