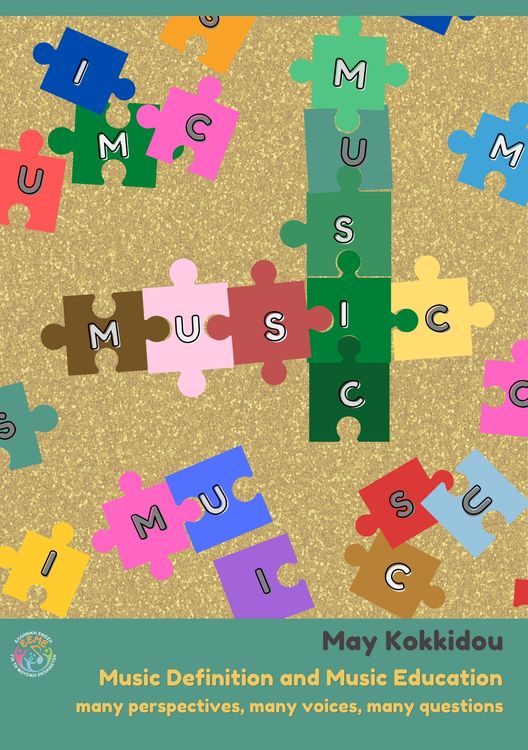 Music Definition and Music Education: many perspectives, many voices, many questions
May Kokkidou (MEd, PhD, post-PhD)


Proofreading: Regina Saltari
Cover design: Yannis Mygdanis, May Kokkidou
Layout: Yannis Mygdanis
ISBN: 978-618-83465-6-7
Abstract:
The definition of music is complicated by several factors. Music is everywhere. It holds sociability and individuality, freedom and limits. It is situated historically, philosophically, culturally, politically, economically, and ideologically, in a complex system of symbolic meanings. It has acquired various meanings and bears various connotations. In semiotic terms, music is polysemic: a complex signifier with many signifieds. From the very beginning of human history, people have tried to explain the nature of music and its importance in human life.
This book addresses issues about music's definition, through the implementation of a project conducted between 2017 and 2019 with post-graduate students (pre-service and in-service music educators) who had been teaching music for several years. The ultimate goal was to gain sight of the big picture of the music world(s) and bring meaning to concepts and ideas by moving beyond mere definitions.
Questions about the nature, value and meaning of music should be considered and meditated not only for their own sake, but as a road to seek ways by which to act ethically-pedagogically-musically in our classes. Music waits to be seen in new dimensions. I hope that this book will stimulate fruitful discussions in the field of music education.

Kokkidou, M. (2021). Music Definition and Music Education: many perspectives, many voices, many questions. Thessaloniki: GSME.
© Greek Society for Music Education (GSME), 2021

Presentation of the Greek Society for Music Education (GSME)
The Greek Society for Music Education (GSME) was founded in March 1997. It is a non-profit, scientific organization, with the main purpose of promoting music education in Greece and of developing music education as a field of scientific study. It implements research projects concerning the place of music in social life, in the mass media and especially in education. GSME also collaborates and exchanges data with universities, music pedagogical foundations, social unions, and governmental institutions, especially with international societies that work on the same purpose in Europe and in the other continents. GSME, among other things, organizes seminars, lectures and conferences on various areas of music education.
GSME shares the basic principles, function and goals of International Society for Music Education (ISME). From 1998 to 2018, GSME was an ISME National Affiliate Organization for Greece. Since 2018, GSME is a founding member of the Council of Professional Associations of ISME. Additionally, from 2020 collaborates with the UK branch of the European String Teachers Association (ESTA-UK).
GSME's work is based only on the voluntary and generous offers of its members. Since 1998 GSME publishes the annual journal Music Education with practical teaching ideas and lesson plans (21 issues to date), under the supervision of its Editorial Board. Also, since 2004, the society publishes the annual refereed scientific journal Musical Pedagogics, under the supervision of a Chief Editor and a Scientific Committee (9 issues to date). Both journals include English abstracts. Furthermore GSME publishes the quarterly newsletter The News of GSME (44 issues to date) and maintains a constantly updated website at www.eeme.gr
G.S.M.E has also published:

GSME has formed working groups and committees in the areas of pre-school music education, primary music education, secondary music education, the pedagogy of piano teaching and music in special education. At its headquarters in Thessaloniki, there is a library with music education materials (books, journals, videotapes, CDs and CDRoms and the like). The society continually informs its members and visitors of its activities and updates in the field of music education, through its website.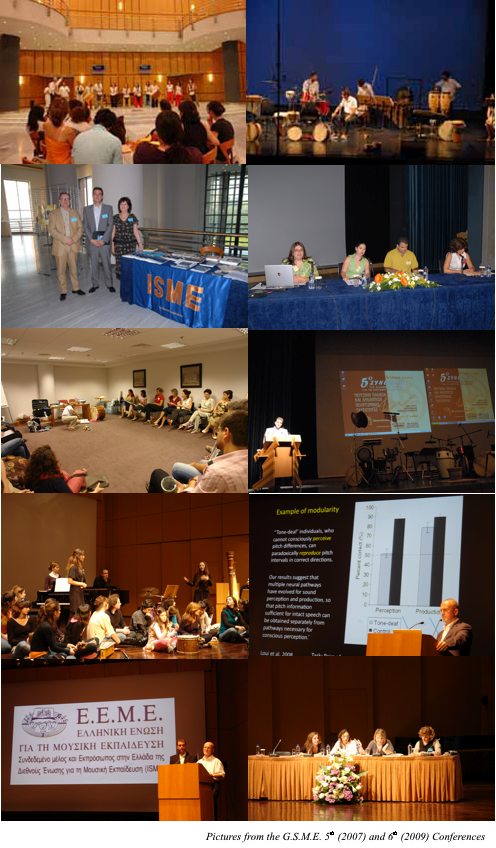 GSME has organized until now 7 webinars, 80 seminars/workshops, 7 series of seminars in different aspects of teachers' lifelong training, 20 lectures, 6 one day conferences, 2 two day conferences, has supported the organizing of music educational-theatrical performances and co-organized several artistic events in collaboration with various cultural organizations. Additionally, the Society has organized 8 national/international conferences, and 1 with the collaboration of the Music Department of the Ionian University.
The 1st GSME Conference was held on June 26-28, 1998 and the 2nd Conference on June 30 - July 2, 2000, both in Thessaloniki. The 3rd Conference, celebrating the 5th GSME Anniversary, was held on June 28-30 2002, in Volos. The 4th Conference was held in Lamia 1-3 July 2005. The 5th GSME Conference, celebrating the organization's 10th Anniversary, was held in 2007, June 29th–July 1st, at the Thessaloniki Concert Hall (TCH). The 6th International Conference of the Greek Society for Music Education was co-organized by GSME, the Athens Concert Hall Organisation and the Music Library of Greece "Lilian Voudouri" and took place in Athens on 30 October-1 November 2009.
In 2012 GSME organized the 30th ISME World Conference on Music Education.
During the last biennium, GSME opened a new area of activities by organizing and implementing Educational Programs for Schools. In 2010 the society designed and implemented the educational program called Melodic City and in 2011 another one called The Strings narrate…stories for children, both at the Thessaloniki Concert Hall.
With its rapidly growing membership, its scientific profile, and its recognized national status, the Society is the only organization in the country that its membership covers all educational levels and supports and promotes music education in Greece. The GSME Board of Directors, Committees and all officers engaged work also in advocacy matters and bring proposals for improvement on music education matters to the Greek State e.g. Ministry of Culture, Ministry of Education and the Pedagogical Institute.
You may communicate with G.S.M.E.
This email address is being protected from spambots. You need JavaScript enabled to view it.
by post:
Greek Society for Music Education
Proxenou Koromila 51,
546 22
Thessaloniki
Members may visit the offices and the library every Saturday from 11:00 to 14:00.
G.S.M.E. Headquarters are located at 51 Proxenou Koromila Str. in Thessaloniki. They house the society's secretariat as well as its library, which contains a sizeable number of books, periodicals, catalogues, LP's, CD's, videotapes etc., all related to issues that pertain to the field of music education.
These resources are available to the members of G.S.M.E. to borrow, free of any charge.